BELIEFS GOVERN OUR LIFE,
CHANGES HAPPEN THROUGH THE PEACEFUL SPACE AND THE BODY!
CALM™ : my method combining hypnosis and meditation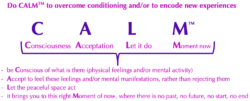 For Whom? This workshop is for you if…
the method generates your interest: https://www.centredoz.com/en/particuliers/calm
you know yourself well, are aware of a lot of things but don't know how to change
you are interested by spirituality
you would like to discover the method in group rather than individually
you look for concrete, pragmatism, easiness, quickness, efficiency and answers
you came already but you need a booster shot, due to the wealth of information
you have a lot of questions about yourself, your life, the others and search for answers
What benefits in group?
you feel less lonely with your problems
energy and synergy of the group bring a lot, even in silence
you enjoy a good moment together and you practice
by changing your energy, you contribute to change the collective energy
you leave with concrete things, have answers and know what and how to do afterwards
Don't wait for anything or anybody to be well. Subscribe now to offer yourself this well-being that manifests itself by more love, joy, creativity, serenity, abundance, and many more things!
I look forward to meeting you soon!
The workshop is held in French
WORKSHOP IN PRESENCE AND BY VIDEO
Date : please see  the agenda below
Place : centre Aliotis, boulevard Helvétique 30, 1207 Genève
Schedule : from 19h00 to 21h00
Mandatory registration
Price : CHF 50.- (payment with Twint or credit card. If you'd like to pay by bank transfer or cash, please contact me):
Workshops agenda:
– Wednesday, November 10, 2021
– Thursday, December 9, 2021
– Thursday, January 20, 2022
– Tuesday, February 22, 2022
– Wednesday, March 23, 2022
– Thursday, April 28, 2022
– Tuesday, May 24, 2022
After this workshop, you can experiment CALM™: